CYLA and the Wasserman Foundation team up to give back to the students of Watts
Earlier this month, the City Year Los Angeles Civic Engagement Team (CE Team), a team of AmeriCorps members who lead volunteer projects, collaborated with the Wasserman Foundation and the Partnership for LA Schools for the 10th annual Wasserman Serve Day, and the 2nd virtual service day for CYLA this school year.
Over 120 Wasserman staff members, fondly known as "Team Wass," gathered via Zoom to participate in this year's virtual service project benefitting the students of Florence Joyner Elementary School (FloJo) in Watts.
During the service day, members from Team Wass hand-painted educational games that will be added to hundreds of Student Success Kits – packages full of school supplies that FloJo teachers and school administration have let us know are most needed during this time of distance learning. With the help of the Wasserman Foundation, over 400 kits were created and will be delivered to the Pre-Kindergarten-5th grade and special education students this Fall.
The CE Team worked their magic, bringing virtual service to life, and ensuring that the project was not only safe, but engaging for all involved. As Rica Rodman, the Executive Director of the Wasserman Foundation shared, "Thank you for the generous amount of time you placed into planning Serve Day with us. The level of detail you placed into this project was phenomenal—including the box design, UPS outbound logistics, return logistics, paint by color, coordination of projects with breakout sessions, the program. how-to video, power point, slide show and so much more.  We all appreciated your work leading up to this but the precision really hit us today while watching all of the pieces fit together.  We are incredibly grateful and can't wait to hear what the students think when they receive their bags!"
This is not the first time City Year LA has worked with #TeamWass. Both organizations have come together over the last several years for multiple Wasserman Serve Days, serving the students at various City Year Los Angeles affiliated schools. Cassidy Carroll, , described this service project as especially meaningful given the students it would benefit. As Carroll expressed, "This project was extra special as it benefited Florence Griffith Joyner Elementary School – the first school in Watts that Team Wass renovated in 2011".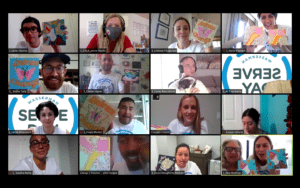 Although the two groups couldn't come together in person for the service project as they had in years prior, the CE Team made sure that even virtually the group would make a strong impact through the day's work. As Carroll described, "The Wasserman Foundation was thrilled to partner with City Year once again for Wasserman Serve Day in Los Angeles. City Year went above and beyond to ensure that our first ever virtual event ran smoothly and was still fun and engaging for the volunteers. While we missed gathering in person to paint murals at a school, the project leaders at City Year did a great job making it feel like we were all together".
At the end of the service day, the whole team was brought back into the larger group for a special guest appearance by students from Florence Joyner Elementary School's 3rd grade class. After some remarks from the current principal of FloJo, Dai Shalon Jordan, Wasserman staff members were able to hear first-hand from the kids how much their service means to them and just how big of an impact the team is directly making. As the students shared in a collective message, "We want to thank the Wasserman Foundation for supporting our dreams." The third graders then broke out into an acapella rendition of "Thank You For Being A Friend," which you may remember from the television show Golden Girls. Participants sang along with the students, and with smiles all around the virtual service event concluded.
Big thank you to Casey Wasserman and the Wasserman Foundation for choosing to collaborate with City Year Los Angeles and our CE Team for your 10th Annual Wasserman Serve Day. We are so grateful for your partnership and the incredible amount of impact we have been able to make over the years of service together.