Honoring the 2020 Idealists of the Year
City Year's mission is fueled by a culture of idealism
Our work is grounded in the unshakeable belief that we can all help make the world a better place. Idealism isn't just encouraged, it is necessary to help advance our mission of keeping students in school and on track to graduation. We believe these traits are contagious, and that's why we strive to share them with our communities and the world around us.
City Year Kansas City's is proud to honor 10 Idealists of the Year
Each year, City Year Kansas City honors individuals who, like our AmeriCorps members, embody the spirit of idealism. They show a commitment to improving the Kansas City region by making a difference in the life of one person, an organization, or an entire community. Idealists of the Year are nominated by sponsors of City Year Kansas City's Day of Idealism.
Traci Bryan
Nominated by GEHA, Traci Bryan is team lead within the Enterprise Project Management Office at GEHA.
Traci Bryan is an ambassador for Fight Colorectal Cancer. Fight CRC empowers and activates a community of patients, fighters and champions to push for better policies and to support research, education and awareness for all those touched by colorectal cancer. Traci became a passionate advocate through her personal connection to this cause. Her husband was diagnosed with Stage IV colon cancer in 2016. In March 2019, she joined 150 Fight CRC advocates in Washington, D.C. to meet with Congressional Representatives and advocate on behalf of all those impacted by this disease. In March 2020, she participated in Fight CRC's virtual Call-on Congress from which more than 3,000 emails were sent to Congressional Representatives. Through attending these events, Traci actively participated in Fight CRC's mission to impact legislation for research, improve access to high-quality care and increase colorectal cancer prevention efforts by reducing barriers to colorectal screening.
This year and last, Traci participated in Fight CRC's Blue Star State Campaign by requesting and obtaining a Governor's Proclamation for Missouri to recognize March as Colorectal Cancer Awareness Month. Traci also joined 130 advocates in Fight CRC's Climb for a Cure and hiked to the summit of Mt. Flora, Colorado, elevation 13,146. As an Ambassador, she continues to use her story to make a huge impact in the advocacy community, both locally and nationally.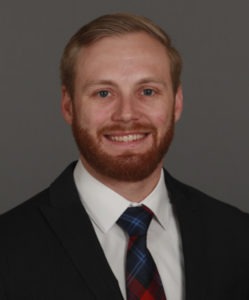 Jackson Delay
Nominated by the Kansas City Chiefs and the Hunt Family Foundation, Jackson DeLay is the marketing manager for the Kansas City Chiefs organization.
While working with the Chiefs, Jackson led the Red Friday and Chiefs Kingdom Kids campaigns this year. Both are major projects that are important to Chiefs community activities for today and tomorrow. In 2019, Red Friday raised over $550k through flag sales, the biggest ever for this activation. These funds are donated directly to Ronald McDonald House Charities of Greater KC. Over 8,000 youth became Chiefs Kingdom Kids, more than doubling the size of the group in under a year.
In his personal life, Jackson is a Big Brother to a local child, regularly engaging with him and serving as a role model. In addition, he is a member of the KC Chamber of Commerce GenKC Program. Jackson was recently appointed to the Young Advisory Board of the Children's Place where he will learn more about the organization and have an impact on youth in KC. Giving is a part of Jackson's personal mission, and that comes through at his job and in his personal life.
Amy and Bob Dunn
Nominated by the employees of JE Dunn Construction.
For Bob and Amy Dunn, the Cardinal Rule of "treating others the way you want to be treated" helps guide everything they do in their philanthropic efforts. They firmly believe in donating their time, talent and treasure to local charities because it is their desire to help others and it is the right thing to do. Bob and Amy mainly support organizations focused on arts, disabilities, education, health, religion, serving the disenfranchised, and youth. Local charities they have supported include: Ability KC, American Heritage Girls, Bishop Spencer Place, Boys & Girls Club, Catholic Charities, Cure' of Ars Church and Grade School, EMBRACE, Giving the Basics, Horizon Academy, Little Sisters of the Poor, Operation Breakthrough, Rockhurst University, Sherwood Autism Center, and University of Kansas Hospital & Cancer Center – plus many more. As Senior Vice President of Community Impact for JE Dunn, Bob has served on 30 local non-profit boards and 59 committees for civic and charitable organizations, including serving as a Founding Board member for City Year Kansas City. For their unwavering commitment to the Kansas City community and leading by example, JE Dunn is pleased to recognize them as our 2020 Idealists of the Year.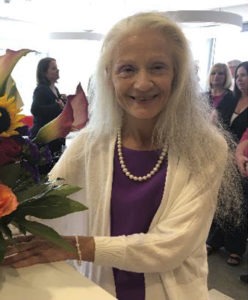 Janet Erwin
Nominated by Polsinelli, Janet Erwin is a legal administration assistant at Polsinelli.
Janet devotes her time to a number of organizations throughout Kansas City. She has been a referee for the boys' and girls' instructional and competitive volleyball teams for Kansas City's Parochial League for 26+ years where she enjoys interacting with players, families and developing rewarding relationships. She has also tirelessly organized and coordinated Polsinelli's participation in Catholic Charities Project Shining Star for years, helping to spread joy to families in need during the holidays. With Janet's encouragement and dedication to the effort, Polsinelli is able to adopt over 150 children and families in need each year.  Throughout the year, Janet participates as Music Director at St. Anthony Catholic Church where she organizes bilingual music for Sunday masses and holy days and finds joy in singing. Whether helping with the Rockhurst High School Spectacular every year, working with youth or helping families in need, Janet loves building relationships and improving the lives of those around her.
Katie Fitzgerald
Nominated by Mariner Wealth Advisors, Katie Fitzgerald is a senior wealth consultant for Mariner.
In her role, Katie helps business owners and senior-level executives formulate and implement financial plans. She also exemplifies the firm's commitment to community service and volunteerism, at work and in her personal time. Katie grew up in a family that believes in giving back to the community, and she and her husband Matt have instilled those same values in their three children today. She has been an advocate for so many charitable causes both inside and outside of the walls of Mariner Wealth Advisors.
Katie currently serves on the Advancement Board for the University of Kansas Health System. In addition, she is on the Advisory Board for the Greater Kansas City Community Foundation and the foundation board for Johnson County Community College. In addition to her board commitments, she volunteers her time at the United Way of Greater Kansas City Tocqueville Society, BOTAR, Operation Breakthrough and her children's grade school. Katie truly exhibits our giving philosophy of to whom much is given, much is expected. We are proud to be celebrating her as an Idealist of the Year.
Larry Flanagan
Nominated by Great Range Capital, Larry Flanagan is an associate at Great Range Captial.
Idealism is often judged as being unrealistic, and indeed, Larry Flanagan's community involvement seems to defy space and time. In addition to working full-time as an associate with Great Range Capital, he serves as an officer in the New York Army National Guard. As Commander of the 4th Financial Management Support Detachment, part of Larry's duties include planning and executing all reserve training and operations for his unit, which is currently providing assistance to those affected by the COVID-19 pandemic in New York.
More locally, Larry regularly volunteers with Harvesters and is a member of the Hyde Park Neighborhood Association. A graduate of the School of Business, he continues to mentor current students, assisting with their educational, professional and personal development, and is an active member of the KU Veterans Alumni Network. Recently, Larry's love of engaging with other professionals and dissatisfaction with costly, invitation-only, agenda-driven networking events inspired him to help start a new networking group that's free and open to anyone. While the group's goal of connecting people in the community may be simple, its scale isn't. Around 700 people were invited to its latest event.
Michael Kanaley
Nominated by Global Prairie, Michael Kanaley is the managing director of operations at Global Prairie.
Passionate about education, civil rights and baseball, Mike has combined all three through his almost 15-year service on the Board of Directors of the NLBM and has twice been awarded the NLBM's Randall Ferguson Board Member of the Year. In his current role as the Board Vice Chair and Chair of the NLBM's Marketing Committee, Mike is helping drive celebrations around the 100th Anniversary of the founding of the Negro Leagues, educating the country about the role the Negro Leagues had on the civil rights movement and the social advancement of America.
Since arriving in Kansas City, Mike's has volunteered more than 2,500 hours to philanthropic and civic causes in our greater Kansas City community. He currently serves on the Board of the Kansas City Area Development Council and the Grants Committee for the East Fund at Shawnee Mission East High School. Previously, Mike served on the Board for the Boys & Girls Clubs of Greater Kanas City's Reviving Baseball in the Inner City (RBI) program and on the Kansas City Symphony's Business Council.
Global Prairie celebrates our colleague, Mike, as the ultimate idealist and someone who epitomizes our Global Prairie belief that business, and its leaders, should be a force for good in the world.
Jared Kastelein
Nominated by City Year Kansas City and the administration of Central High School, Mr. Jared Kastelein is a ninth and 10th grade physics teacher.
After graduating college, Mr. Kastelein was just on the hunt to find a job. But what he found when got to Central High School (CHS) was a welcoming team and the space to make a huge difference in the lives of students each day. Throughout his last four years at CHS, he's been able to help students get their driver's license, support them through depression and make decisions on what to do after they graduate. One of his favorite parts of his job is when he gets to help and work alongside his fellow teachers. In his spare time, Mr. Kastelein is also a small group and elementary teacher for the kids at his church, Hillsong Kansas City. In all that he does, it's so clear how much he puts students first and continues to work to support them on their way to success.
Lisa Phillips
Nominated by CommunityAmerica Credit Union, Lisa Phillips is senior insurance support representative for CommunityAmerica.
Lisa is a Kansas City native, exemplifying the warmth, compassion, and energy of our region. With her husband, Gary, she raised two children in Kansas City. Lisa joined CommunityAmerica in 2017 in a role where she often interacts with members at difficult times. Frequently, members are upset when they initially connect with her, but Lisa's compassion and experience help to find them the best possible outcome. But Lisa does even more as both a Culture Champion for CommunityAmerica and as a volunteer for Harvesters, Rose Brooks and other organizations. She also teaches religious education to little ones at her church. When her daughter and son-in-law relocated to Dallas, Lisa and Gary began traveling there frequently to maintain a special connection with her three grandchildren.  And it's not uncommon for Lisa to take her mother and aunts out for a movie or concert. She cares for the people around her and when you spend just a little time with her, you take a bit of that warmth with you. She impacts the lives of those who enter her circle and quietly inspires others to give of themselves. CommunityAmerica is proud to honor Lisa Phillips.
Britt Pumphrey 
Nominated by Terry and John Petersen, Britt Pumphrey is the principal at Apache Innovative School.
As Britt began his career, he wasn't asking himself what job he wanted to do, he asked himself what industries are providing equity and empowering others. Britt describes education as a field that both frees and oppresses people; his career as a teacher, and eventually a principal, is driven by making sure every individual knows and feels their importance and their value. That his students, who may face challenges, have the tools to take them head on and that teachers are empowered to change lives. Apache Innovative is a beautifully diverse elementary school in Shawnee Mission School District. There are 550 students, more than 14 languages, no majority ethnicity and a team of passionate and dynamic educators.
In and out of the school building, Britt is committed to building connections that help to meet students' needs. He has served on the Missions Board at his church where he facilitated monthly service projects with the Urban Scholastic Center in Kansas City, Kansas. And he has built and maintained a relationship with an organization in Peru called Missions in the Amazon. This organization does medical, religious and academic work in villages across the country. Britt has made several service trips to Equito, Peru, to provide extra support, as well as committed funding. He also has organized a toy drive within his local network to send more than 1,200 toys to the children in Peru every holiday season.