We Need More Black Educators
Thanks first must go to Historian Carter G. Woodson for creating Negro History Week in 1926 to celebrate the profound impacts of Blacks within the Diaspora and World. The significance in knowing that you cannot deny the impact of the ancestors that were deemed 3/5ths human (to codify the atrocities done), is something that cannot be ignored.
The pop images of the Black Male educators motivate the activation of voice like Melvin B. Tolson, the fighting the system Jim Ellis, to be academically fierce alongside the physical talent Ken Carter, the reaching other realms Joe Gardner, and the comPASSION of people Joe Louis Clark. In each of those films and references implies only a figment of the impact one may have as a Black male educator. Let's be honest, those are the movies even though there are real people we rarely interact beyond those stories.
I wish I could say my journey to becoming an educator started with the pop culture references made above or even the epiphany of discovery in college, but it was my own journey to be educated. Being a twin, many believed that schooling came easily for my sister, and I went through constant comparison towards achievement. I was the student that they provided services for. The student they almost did not allow to start because of testing. The student rejected by the advanced school without even being asked what the issue really was. When I got glasses, I was able to read differently. Even though I despised it I could do it. I spent my elementary years fully struggling, but capable and achieving. I did not like school and questioned its relevance.
It was not until a few years ago that the light bulb hit and I could even articulate this. I was privileged to have Mr. Woffard as my 5th Grade teacher, as he lived around the corner and knew my family well. Mr. Woffard was my first Black male teacher, and he took the time to speak of my brilliance and potential even when I did not recognize it. Many will go their entire lives without having a Black male educator. Nationally, only 2% of teachers are men of color and that number is even lower in the state of Missouri. I am lucky to have had a plethora of Black male educators, and each made a lifelong impression.
When Brother Buie taught, I knew I had to meet expectations as he not only taught but ministered. He made math relevant. When Kpoakau taught he made you see history in the lens of an immigrant and questioned why those that were privileged to be born in this country did not take full advantage. When Coach Rivers cracked jokes and talked trash because you came to his spades table, he made you understand culture and connection to English. Having us write our own eulogy hits differently when your community makes it a reality. When Uncle Leon came back from his smoke breaks, he gave you the chance to teach Debate because he already taught you how to. When Major Brooks calls you out and explains that your progress is limited to initiative you must take. When Sgt. Davis gives you that haircut in the back of the classroom and makes you presentable because you will be standing front and center representing the program, school, and community. When they tell you, your mind is too great to settle at joining the military and you must go to college. When Marvin Fight sees your skills on the court as he played for the KC Kings you shoot your shot differently. But when he shows you it is okay to be the only man in the room it does not make you less than, it makes your masculinity present itself differently. These men and many more tilled the recess of my mind and ingrained in me more than they would have known, but I cannot forget Reginald Walker who gave me ultimatums to take risk but also helped me get that job that provided for more than just me. I remember the elation I had when I could walk the sanctuary of the church and see your teacher embracing the words from the preacher. Black male educators have a profound impact defining and shaping Black male Students. Representation matters. It is not just a phrase, I am serious. I think back and note the many influences that have impacts. I saw myself in them and now I see them in me. They kept me from missing my dad during his incarnation and not blaming myself for his addiction. They made sure I saw myself as an educated Black male and not only do I have the ability I have responsibility to educate others. I close this by saying, "I love you, you are important, you can, you will, we need you, and above all you matter."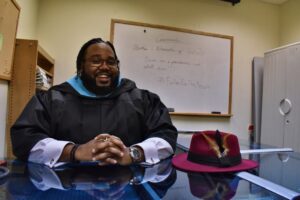 My name is Jorge Fuller and I am a Black male educator.  It is a part of my identity that I dare not refuse. It makes me constantly push myself for improvement. Studies show that having at least one black teacher significantly increases the chances that Black students will graduate from high school and consider attending college. I completed my Masters in K-12 Leadership, became a Surge Fellow, attend BLOC (Brothers Liberating Our Communities) events, search and participate in affirming and challenging conversations, and purposely lead AmeriCorps members to do the same. I presently serve as an Impact Manager with City Year Kansas City at Whittier Elementary, but aim to be a leader and servant of my communities.
---
If you have not realized, the focus of this is Education and the importance of Black men within it. I must say this: The phenomenal Black women that have nurtured, raised, celebrated, and educated me do not go unnoticed. I love, appreciate, and see everything you have done, do, and will do. Dr. Tony Dickerson I still remember the warmth of the embrace you gave when I told you I was switching into education as well as the sponsorship to grant me the opportunity to work in education. It was your push for me to serve with Jumpstart KC my Freshman year of college that set my trajectory. I thank you and the many others that support me. To my mother, thank you for advocating the filling of the void for the male figure in my childhood. Now as you can see a Black man is profoundly influenced by the Black woman.
---
This post is a tailored version of the blog "Black Male Educators: You Matter" written by Jorge Fuller. Click here read the full version.