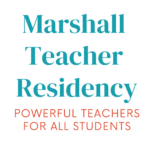 Website Marshall Street
At the Marshall Teacher Residency, we believe student-centered learning is the first step toward more equitable schools. We know that change starts by investing in the training and development of America's future educators: YOU!
Do you:
Believe that all students can be successful?
Want to build meaningful relationships with diverse students
Embrace an innovative approach to teaching and learning?
Commit to learning and growing as an anti-racist educator?
Join us! We are currently recruiting for our 2022-23 Cohort, which launches July 2022.
The Marshall Teacher Residency is a one-year educator preparation program that places hands-on practice, data-driven learning, collaboration, and mentorship at the heart of the Resident experience. Together we learn to lead classrooms as we need them to be – innovative, anti-racist, with students as whole people at the center of the learning experience.
As a Marshall Teacher Resident, you learn by doing:
Clinical Practice: Four days a week, Residents learn and practice alongside an experienced, middle or high school teacher, engaging students in deeper learning projects, developing student habits and skills, and nurturing a strong classroom community.
Project-Based Curriculum: One day a week, Residents engage in their own learning experiences and coursework, led by the program faculty, using a project-based curriculum that is competency-based, self-directed, and student-centered. Residents collaborate with a diverse cohort and engage in critical conversations about equity and inclusion.
Professional Development and Support: Residents receive consistent support from a team of professional educators, working to meet the individual needs of each Resident while building coherence between the coursework and the school site experience.
Visit our website to learn more about the benefits of entering the teaching profession through the Marshall Teacher Residency, including:
Affordable tuition and a living stipend during the year of the program
A California Preliminary Single Subject Teaching Credential upon completion of the program
Priority in the hiring process at our partner schools
The option to pursue a one year Master's in Education upon completion of the program
Application Requirements:
Possess a Bachelor's degree from a regionally accredited college or university
Be eligible to work in the United States
Commit to teaching in one of these subject areas: Math, Biology, Chemistry, Physics, Spanish, History and English
It is our priority to recruit a diverse cohort of aspiring teachers. People from all backgrounds are strongly encouraged to apply. Be a part of the next generation of diverse educators, impacting students and shaping the future of education. Apply today!
To apply for this job please visit grnh.se.