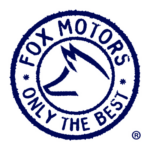 Website Fox Motors
KEY RESPONSIBILITIES
The Parts Manager is a vital part of our management team to ensure the department's profitability and growth. As the Parts Manager, you are responsible for hitting objectives using proper purchasing procedures, inventory control, staff utilization, security, pricing, merchandising, displaying, and advertising. Fox Motors is looking for a Parts Manager that is tech savvy, organized and has a drive to be a successful leader.  If you are ready to put your career in gear, Apply Now!
Key responsibilities include the following. Others may be assigned.
Forecasts goals and objectives for the department and strives to meet them.
Hires, trains, motivates, counsels, and monitors the performance of all parts department staff.
Maintains a balanced inventory consistent with the requirements of the service department, body shop, wholesale accounts, and the do-it-yourself public.
Establishes pricing parameters in each customer category that generate sufficient gross profit to produce a satisfactory profit while maintaining customer loyalty.
Establishes individual parts inventory levels and balances them for maximum turnover.
Monitors and adjusts inventory to minimize obsolescence.
Ensures that all parts are properly tagged so that the dealership recovers full credit from the factory.
Sets and enforces a policy on the special ordering of parts.
Analyzes sales, expenses, and inventory monthly to maintain profit goals.
Handles customer complaints immediately and according to the dealership's guidelines.
Ensures that all dealership purchases are properly accounted for before payment is made.
Assists in the collection of past-due accounts.
SKILLS & EXPERIENCE
Two to four years of parts management experience and/or equivalent combination of education and experience.
Experience in the auto industry preferred but not required.
Proven leadership ability to mentor and train others.
Experience and desire to work with technology to drive an exceptional customer experience.
Excellent communication, organization, and follow-up skills.
Ability to set and achieve targeted goals.
Ability to multi-task, prioritize, and manage time effective.
High energy and positive attitude.
Valid driver's license.