Synopsys Global Volunteer Day (San Jose, CA) 2019
September was a busy month for Team Care Force (TCF) with one event after another. Our Synopsys San Jose event fell right in the middle of our schedule.
Before making my way to San Jose, CA, I took a quick detour to Sacramento, CA, where I completed my first year of service with City Year, as I was able to extend my trip in order to visit my teammates from last year who still live in the area. It was a great weekend catching up with friends that I missed dearly. In the blink of an eye the weekend was over; on Monday at 6:30am sharp, Hugh Harlow, our Senior Partnerships Manager, teammate Masaki (Mas) Carty, and I started our short road trip from Sacramento to sunny San Jose.
When we arrived in San Jose, we met up with our Senior Program Manager Molly Stuber, and another teammate Ben Carlin at our service site, Ryan STEAM Academy. The five of us started event preparations to get ready for the arrival of our remaining teammates and event support. As we finished up our prep day, some of us were sent to the airport to pick up our Care Force Reserves from Chicago and Boston, while the rest went back to the hotel. The following morning, our event team was completed by staff and AmeriCorps Members from San Jose as well as the Boston Civic Engagement (BCE) team, the Chicago Civic Engagement (CHICE) team, and several Care Force alumni. The feeling of individuals coming together for a common goal was empowering. We were quickly broken up into tasks to start prepping. I knew I would be assigned to be the "Cut Captain," where I would oversee the measuring, cutting, and kitting of any wood for our construction projects, because of the time I spent creating the cut list for the Synopsys event. With my diverse team by my side I was ready to conquer our wood delivery. Our first task was measuring. I had anticipated this would be a breeze, but quickly learned this process was new to some of my cut team. I was grateful to have Halli Grunder from BCE, and Johanny Tejada from TCF, with me to help explain measuring and relieve some of the stress. As the week progressed, we transitioned  from measuring the wood to cutting it. I was having a hard time managing it all, especially considering that all the wood had not arrived. Thankfully Halli was by my side to remind me it would all work out and also to review the cut list with me repeatedly. Being Cut Captain for such a large-scale event caused me a great deal of  stress, but I wouldn't change it for the world. I learned so much about myself and from working with other people at different levels of proficiency. I spent the week so wrapped up in the cut list that I almost forgot there were other projects being prepped.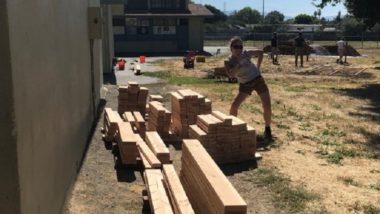 On event day, I was in charge of leading project 11. Our team was responsible for painting six signs that would direct visitors to different locations around campus and the backs of nine benches for the outdoor classroom. It was a great day watching my volunteers enjoying their service. The best part came at the end of the day when the majority of my volunteers had departed, and I was cleaning spilled paint off the blacktop. Two little boys saw me doing this and thought it was the coolest thing they had ever seen. They asked if they could help me and really wanted to have a turn at cleaning up the paint. I was more than happy to let them, so we turned it into a game.
After closing ceremony, everyone gathered to discuss what still needed to be done before we could leave for the day. We split up to complete mulching, finish painting the maker space, and return all the tools to Care Force 1-our tools container. On Sunday, the day after the event, we spent our time doing some final cleaning around the campus. After the final tools were returned to Care Force 1 and all the spaces were cleaned up, it was time to hop on a flight back to Boston. With another event under my belt, I decided to reflect upon the past few weeks and all that I had learned. Synopsys was by far the hardest event I had done, but also the most rewarding.