Care Force Alumni Spotlight: Christin Riddick
Current Team Care Force members, Stuart Allen, Caitlyn Sarles, and I had the opportunity to speak with Christin Riddick on October 13, 2021. Christin served with City Year Boston (2015-2016) and on Team Care Force 10 (2016-2017); he is currently working as an On-Site Program Manager with the Washington Youth Garden.
Stuart: Where did you serve during your first City Year(s) and what is one of your favorite moments from that year?
Christin: So, I served in Boston and then went to Team Care Force after that. I'm from the DMV: the D.C., Maryland, Virginia area, and I was already in Massachusetts because I went to school at Western New England University in western Massachusetts. To be honest, I didn't know what I wanted to do with my life. Before joining City Year, I wasn't into teaching or anything like that, but before my first year of service was around the time where there was a lot of killings of unarmed black men in the streets. One of those incidents happened in Baltimore which really hit close to home for me. I started slowly transforming into this mindset of service and social justice prior to coming City Year and that's what kind of started my journey off. I was like, okay, City Year looks like an organization that cares and is willing to do something about the issues that are going on in the world.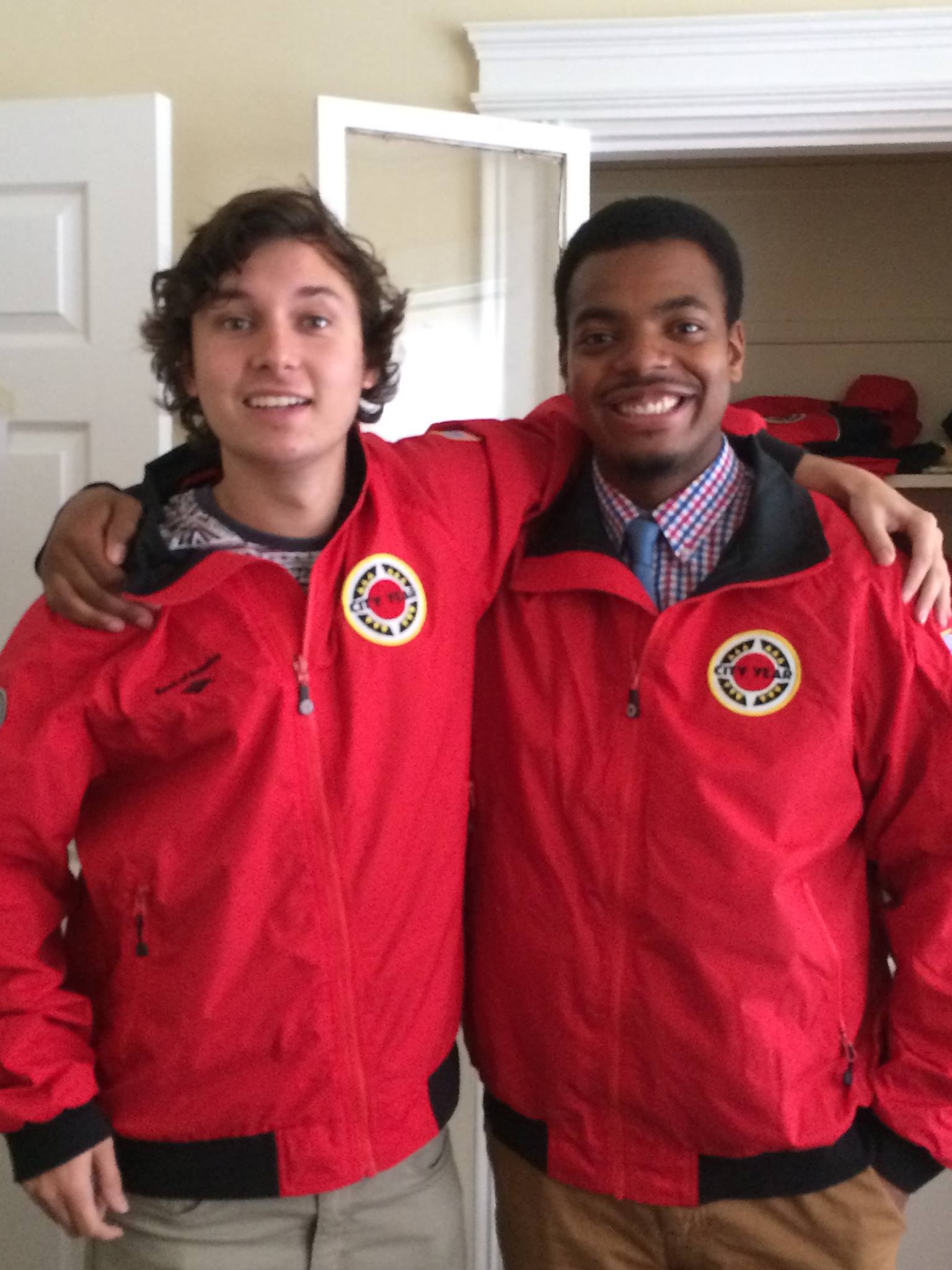 Allison: What motivated you to join Team Care Force for another year of service?
Christin: I had a good team both years. I was lucky. I know that's not everyone's experience, but I had a great team of amazing team people who are just happy to be there and just trying to figure it out just like me. We supported each other and I really got to appreciate not only the community I was serving directly but also Boston as a whole. I got to explore being in a different state that I wouldn't be in otherwise. I was kind of tired of being in the classroom and I wanted to do something a little bit more hands on. My leadership at the time, my Impact Manager and Team Leader, were kind of the solution. They started seeing leadership skills early on in my first year of the program and introduced me to second service year options. When I heard out about Care Force, I figured I'd learn some important skill sets that would help me later in life which I did. I used to plan all kinds of events and thought this opportunity would be cool to see if that's potentially a career path. I felt like I had some skills that are transferable if I did get the position. I remember bringing a sketchbook into my interview because I was sketching a lot at the time and I was like alright, this would be a cool job and I'd totally be down to travel.
Caitlyn: What was your favorite event or activity you did while serving on Team Care Force?
Christin: The San Jose Trips, definitely. It was a culture shock because I hadn't been to the West Coast before. So, San Jose was cool in a lot of ways I remember we were building ticket booths at one of the schools and that was a crazy product. I didn't even think that it was going to get done to be honest. I had just learned how to do constructing like building a foundation.
I also loved going to Jacksonville, FL. I think we had a pretty nice hotel on that trip, and we pulled off all the projects. We just had high expectations and a limited time to do it. It could be a little bit stressful, but it was also exciting. Sometimes it'll be high intensity, and I'll be like, alright we got to get this done.
Stuart: What is the biggest challenge or surprise you faced while on Team Care Force and how did you overcome and grow from it?
Christin: The leadership relied on us to build out certain programs. We were responsible for actual schematics, run of shows, and planning the core parts of the events.
If we did something that didn't align with what needed to be done you felt the ripples of that in real time. You know everybody had their day where it's like I could have done that better, I could have improved on that, but it also felt good when you bested challenges like OK, this was a big project and I figured out a way to do this that helped me later on. When I run into problems in my work experience now and it's a big project, I think I did it then I can do it now. It didn't feel like we were just doing busy work. It felt like everything we did mattered, and I really appreciate those constraints.
Allison: As an alum, how have you been involved with Care Force or City Year after you served
Christin: I was only on the recent alumni event when we made digital virtual backgrounds for the kids. I honestly wish I could work on more [Care Force Reserves] projects. Obviously, COVID put a damper on some of those but I'm hoping to get back to them. As far as my teammates are concerned, I still talk to them all the time; I'm actually about to move in with one of them. We had our team try to do a team trip every couple of years if not every year. Since we graduated, we went to Denver and Detroit for another team trip, and I still bounce ideas off of both my City Year teams.
From Care Force and my first year I still help some of my first-year teammates who went on to be some sort of educator and I've provided them with garden education tools from time to time since I'm in the field of sustainability.
Caitlyn: What is your current position and what are some skills that you were able to translate from Team Care Force?
Christin: After my second corps year, I started working as a teacher and focused in the garden space at my school, bringing the classroom outside and getting people connected, especially people of the African diaspora. I got a chance to work with the Washington Youth Garden through a teacher training program that they were hosting, and through that training program, I was able to build relationships with people that allowed me to get the job I have now.
At the Washington Youth Garden, they have a youth program which I facilitate that brings in 14 and 15-year-olds and teaches them about the land they're connected to. Construction plays a part; I teach them how to build structures like garden beds and signs. I also connect them to other people in the space, especially black and brown entrepreneurs.
Care Force helped me gain skills like public speaking and prepared me to not be shell-shocked and nervous when I am with important people. We were speaking to CEOs and high-level executives who were doing all these volunteer projects.
I don't even know if I would have the job I have if I didn't have the Care Force experience that I had, I'm literally doing the exact same thing!
Stuart: If there was one insight that you wish you had before you started your year with Team Care Force?
Christin: For someone coming in, I would say to them this is an amazing experience. It's a very rare experience that you don't get in entry level positions. I mean, you definitely have to have one year of City Year coming into this, but there's many positions outside of City Year in which you can spend two or three years doing work that's not productive to your growth as a professional. It's such a great experience because you're able to touch so many different aspects of what makes you professional and so many skills you learn that are transferable to other positions that you take.
Make sure you network, talk, say hi and shake hands with everyone; not only people in the cities you go to but also in [City Year Headquarters]. I think that's the only thing I would have done more of. I think I did a lot of it, like hanging out with everybody, but I would have done it even more because it's such a special experience.
Allison: How did you foster your passion into your career?
Christin: For me I was trying to find a way to get out of the classroom because I didn't want to do that long term. Honestly, if you're going to work with your passion sometimes you must be willing to take a little step back first so you can do something you love moving forward. If you do have the opportunity to think about doing that, also use the resources you have around you. Any position that I've ever taken, I've always tried to use it to my full advantage, so even though I was at the school and I knew I didn't want to be there long term, I was like I'm going to do whatever I can to bring my passion to the space I'm already in. When I got to the school, I saw they had a garden and asked to help.
An opportunity came across my plate for a master gardening training through an event the school's garden was putting on. They gave me all the resources I needed because they saw I was putting in the work and investing in what they were interested in. If I'm there I might as well get the skills I need for my next opportunity. Doing that connected me to the garden, which me to get the job I have now. So, it's important to build those bridges, make connections, and continue to "water them", so to speak in gardening terms.