Looking Back on the Impact of the '20-'21 Boston Civic Engagement Team
City Year Boston believes in the immense power of volunteers to support our AmeriCorps members, enhance learning environments, and expand the resources available in Boston schools. To that end, since 2006, we have had a dedicated team in place to manage volunteer activities and projects and engage the community in supporting Boston students. 
The Boston Civic Engagement (BCE) team, sponsored by National Grid, a long-time partner, is comprised of 7 Senior AmeriCorps members, who are AmeriCorps members who return to serve for a second year in a leadership role.  
In a traditional year, the team manages roughly ~40 service events throughout the city that engage more than 3,000 volunteers in projects that range from painting a schoolyard to building or refurbishing a garden to packing thousands of STEAM activity kits for Boston students. This last year, like so many other groups, BCE has had to innovate and adapt to continue to drive impact in a mostly virtual world. 
# of virtual events: 19 
# of schools and centers supported: 26 
# of student success kits created: 7,873

 
# of student STEAM kits created: 3,141
# of volunteers engaged: 1,390
When the COVID-19 pandemic prompted the closure of Boston schools and the emergency lockdown in March of 2020, the team provided immediate support to the Boston Public Schools by helping with the organization of learning packets for students to take home and assisting at food distribution sites. Later in the spring, the team partnered with the City of Boston's Age Strong Commission to make calls to Bostonians over the age of 60 to ensure that they were aware of and had been connected to any needed resources.
In preparation for the 2020-2021 school year, All the while, the team was also creating City Year Boston's first virtual volunteering menu. In addition to creating self-guided projects and processes for online tutorials, the team also laid the groundwork to launch a virtual version of City Year's traditional service events. To facilitate these events, the team worked to identify a service partner and needed resources, packed the needed project supplies, shipped them to volunteers, and then convened volunteers together on Zoom to learn more about City Year, build community, and complete the projects. After the online session, volunteers shipped the completed projects back to the BCE team to organize and distribute to school and community partners. 
BCE partnered with National Grid for their first virtual service event in September 2020, where the team led 40 National Grid volunteers in the completion of 100 STEM Activity Kits for the 3rd, 4th and 5th grade students at the Henry Grew K-5 School in Hyde Park. 
Over the next 10 months, the BCE team managed 19 additional virtual service events over the next 10 months. These events engaged 1400 volunteers, supported 26 different Boston schools and community centers, and provided resources to more than 10,500 students.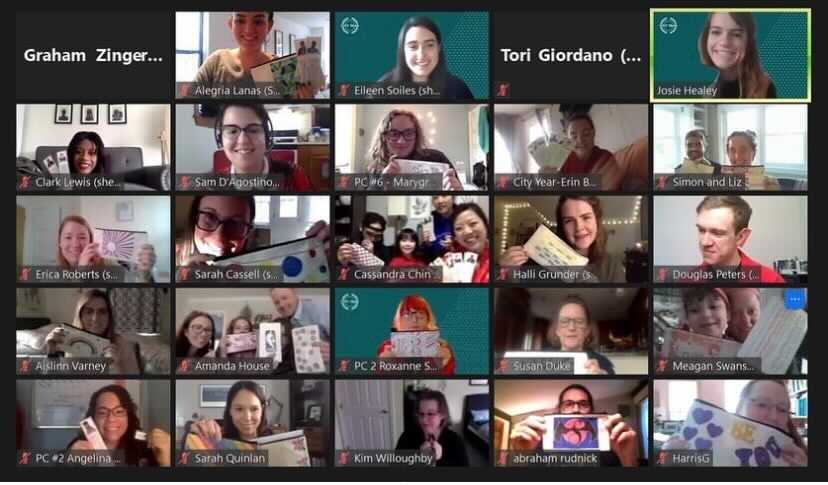 Looking ahead and as public health guidance permits, the BCE team will begin offering in-person and hybrid volunteer opportunities in August 2021. Even as the team transitions back to in-person offerings, though, they expect for virtual service events to continue to be a part of the program moving forward. As we've learned, virtual volunteering offers added flexibility for companies who may have remote workers, or workers who may not be able to take more than an hour out of their day for service. We're excited to continue to make supporting our community partners accessible for all our volunteers!