City Year AmeriCorps member
About City Year
City Year helps students and schools succeed. Diverse teams of City Year AmeriCorps members provide support to students, classrooms and the whole school, helping to ensure that students in systemically under-resourced schools receive a high-quality education that prepares them with the skills and mindsets to thrive and contribute to their community. A 2015 study shows that schools that partner with City Year were up to two-to-three times more likely to improve on math and English assessments. A proud member of the AmeriCorps national service network, City Year is supported by the Corporation for National and Community Service, local school districts and private philanthropy. City Year partners with public schools in 29 communities across the U.S. and through international affiliates in the U.K. and South Africa.
COVID-19 Notice
Our number one priority is the health and safety of our employees and AmeriCorps members and their families; our students and school partners; and the community at large from COVID-19. Proof of COVID-19 vaccination is required for service – all AmeriCorps members are required to be fully vaccinated by your start date. If you are unable to be vaccinated for medical reasons or sincerely-held religious beliefs, we will consider requests for reasonable accommodation consistent with our policy, and where we are able to provide such accommodations without undue hardship to the organization pursuant to applicable law. Notwithstanding any language herein, City Year will comply with any state, local, or federal orders, statutes, or regulations that may conflict with the COVID-19 vaccination policy.
What you'll do
As a City Year AmeriCorps member, your service will focus on helping students get and/or remain on track to graduate by providing academic support, delivering behavior and attendance coaching and encouraging student engagement to promote a positive school climate. As appropriate to the activity and at the direction of the school district, school partner, and/or City Year, service and member development may be delivered in-person or through a virtual platform such as Microsoft Teams, Zoom, Google Classroom, Schoology, Nearpod and Canvas. City Year AmeriCorps member uniforms are required and are provided by City Year.
Primary responsibilities include:
Academic achievement support
Assist school administrators and teachers in identifying students who would benefit from participating in City Year programs (individual support)
Plan tutoring sessions and provide small group and one-to-one literacy and/or math tutoring to elementary, middle and high school youth (individual support)
Support student academic success in the classroom by partnering with teachers and school staff to facilitate differentiated learning activities, encourage assignment completion, and answer student questions (whole class)
Support a positive classroom environment by reinforcing the teacher's classroom routines and expectations, encouraging on-task behaviors, and monitoring chat in virtual classes (whole class)
Create, support and/or co-lead literacy and/or math focused class content and events to enrich learning and classroom culture and climate, such as videos, challenges mand games (whole class)
Create, support and/or co-lead events or programs recognizing and appreciating growth and/or achievement in literacy and/or math (whole school)
Record content focus and time spent with students providing small group and one-to-one tutoring in the City Year data management system cyschoolhouse (individual support)
Participate in and/or lead facilitated data review and student progress monitoring meetings utilizing business intelligence tools per team schedule (individual support)
Participate in leadership development training and coaching programs provided by school or City Year staff that improves their service technique and delivery (service quality professional development)
Engagement & positive school climate participation
Facilitate programming and coaching sessions for individual or small groups of focus list students on building social-emotional skills and overcoming attendance challenges (individual support)
Promote a positive learning environment and school atmosphere by modeling positive peer behaviors, such as respect, timeliness, attendance, and listening, both inside and outside the classroom (whole school)
Support and/or conduct extended day and virtual programming through facilitation of enriching activities for students before, during and after school including, but not limited to, academic enrichment and intervention, homework support, recreation, service learning, and leadership development (whole school)
Create an engaging classroom space in collaboration with the teacher, such as leading warm-ups and energizers, creating aspirational or instruction content related posters and videos, etc. (whole class)
Create, support and/or co-lead events or programs that recognize and appreciate significant growth and/or achievement in social-emotional development and positive behavior (whole school)
Engage students as leaders to help plan and/or lead event elements (whole school)
Record time spent with students providing social-emotional development programs, attendance coaching, and other services such as after school programming in the City Year data management system cyschoolhouse and other approved systems used by the site (individual support)
Secondary City Year responsibilities may include:
Participating in check-ins with Impact Manager, team meetings, site town halls and City Year Headquarters led virtual trainings as applicable
Welcoming focus list students at the start of the school day.
Placing calls to the homes of students to recognize performance, understand attendance issues and assess technology needs, as applicable
Providing drop-in or enrollment-based homework assistance to students outside of school hours (before, after, etc.) in the schoolhouse or virtually
Engaging students, parents/guardians and/or community members in education or social issues through member led themed events at schools or on virtual platforms
Creating team resources such as documenting best practices, creating demonstration videos, creating lesson plans and designing service projects
Documenting service experience and activities such as team legacy binders, video testimonials and blog posts
Independent or group LACY career development planning
Remote service opportunities coordinated by the local AmeriCorps State Commission with approval from the Impact Manager
City Year benefits
Health insurance
Curalinc Employee Assistance Program
Talkspace Therapy Program
Benefit Advocate Center
Bi-weekly living stipend
AmeriCorps child care benefits program
Workers' compensation
Relocation support
Localized benefits
Loan forbearance and interest accrual payments
Public Service Loan Forgiveness Program
Income-based repayment plan
City Year Alumni Association
University partnerships and scholarships
Career partners
Eligibility requirements
City Year AmeriCorps members are as diverse a group as the communities we serve. We're looking for you if you want to build yourself, give back and are ready to change the world.
Applicants must:
Be between 18-25 years old
Be a U.S. citizen or legal permanent resident

Authorization to work in the U.S. is not sufficient
Those with DACA status unfortunately are not eligible at this time

Have a college degree, some college experience, GED or high school diploma
Have served no more than three terms in an AmeriCorps state or national program*
Agree to and pass a criminal background check
Be able to begin City Year by October 18 or December 6 (depending on location)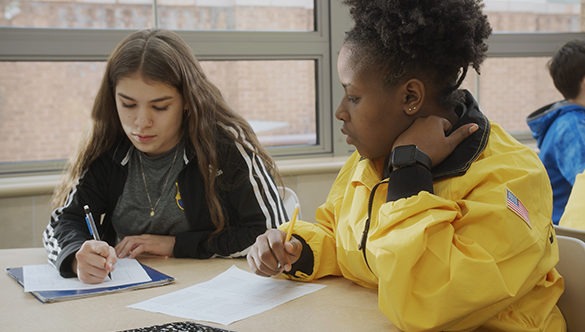 City Year application tips
Submitting an application of any kind can be a stressful process. Here at City Year, we want to make our application process as smooth as possible.
See the checklist
Choosing where to apply
It's a big decision to choose where you want to spend 11 months helping students succeed.
Explore our locations
* Individuals may receive no more than the value of two full time education awards. If you have received the equivalent of more than one full time education award, you are eligible to serve and receive a discounted award.